June 2020
After our annual district art show was canceled due to COVID-19 the Royal Bay visual arts department decided to recognize our talented students by offering a virtual show. The art show consisted of seven categories: Drawing, Painting, 3 Dimensional, Printmaking and Mixed Media, Digital Art, Photography, Fabric & Fibre. Each category within the show was adjudicated and the
entire Royal Bay staff had the opportunity to vote for two 'viewers choice' awards. We would like to thank the PAC and Opus Art Supplies for supporting this show, and for validating the importance of art and creativity by providing an opportunity to honour our students' work. We congratulate ALL participants that submitted work to the show, well done everyone!
artshow2019-20_with_awards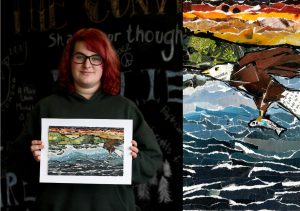 We are absolutely excited to congratulate Rachel Moore on her artwork 'Eagle at Sunset' for being selected as a winner of the Wild Postcard Project @ British Columbia 2018 competition!!!! Out of hundreds and hundreds of entries, Rachel you should be very proud of your accomplishment.
"The Wild Postcard Project aims to increase awareness of biodiversity through artwork competitions for kids & teens in locations across the world. The winning artworks are converted into postcards, allowing local biodiversity – as depicted by artistically inclined youth – to be shared to all corners of the globe."
Look for more details about the project and the future sales of Rachel's postcard at www.wildpostcardproject.com
Art Department Info.