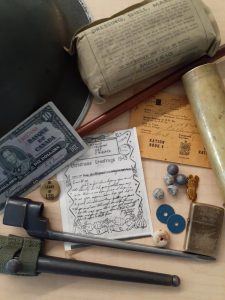 Pictured From Artefact Assignment for 20th Century World History: WWII Spike Bayonet for No. 4 Lee Enfield rifle, Anti-Drug Campaign pin from 1968, Canadian $10 bill featuring Edward VIII from 1936, WWII British helmet, Shell Dressing from 1954, British Officer's Swagger Stick from the Inskilling Fusiliers, 2 Pounder Shell, Canadian Ration Book and Discs from 1945, Souvenir Mascot Pin ('Mischa') from 1980 Olympics, Engraved Lighter from American Serviceman in the Vietnam War, Shrapnel for WWI, Detonating ring from German Stielhandgenate from WWII, Christmas Letter home from 1943 to Canada.
The Social Studies department at Royal Bay Secondary School offers a broad range of courses and materials for students at every level. Students have the opportunity not only to read and respond to text and resources, but field studies, film, artefacts, and current events also constitute elements of the courses. Social Studies should prepare a student for critical thinking, offer a base of knowledge to assist in making informed decisions, and ensure a capability to participate responsibly as a global citizen.
Students in Social Studies 9 have the opportunity to examine revolutions (the French, American, or Industrial Revolution) as well as Canada's history from early European settlement, the challenges in opening the West, Canada's relationship with the First Nations and Metis, to Canada's participation in WWI. Social Studies 10 examines Canada from 1919 to the end of the 20th century. The Great Depression, Canada's role in WWII, the challenges of the postwar era, as well as Canada's complicated relationship with our First Nations and minorities are all examined. An overview of Canadian government is also a component of the course. With the completion of these two courses, students should have a broad understanding of Canadian history and politics, and how Canada has interacted on the world stage.
In Grades 11 and 12, students have an impressive series of options. Grade 11 Social Studies credit may be acquired from any of the following:
20th Century World History
From Versailles in 1919 to the end of the 20th century and beyond.  Students will examine the major events (the Great Depression, WWII, the Cold War) as well as political movements such as fascism and communism with investigation of imperialism and independence. Primary sources, discussion, and responses all form part of the course. An excellent opportunity for the student interested in history, and ideal preparation for the student considering post-secondary studies.
BC First Peoples 12
The course is divided into the three periods of Pre-Contact, Contact and Colonialism, and Revival and Building Relations. The course promotes critical thinking about the history of our nation, and focuses on the voices and experience of Canada's First Nations.
Comparative Cultures 12
This course allows students the opportunity to explore and compare cultures from all over the world.  The class traces cultures from the past and into the present-day world, exploring areas like government systems, economy, military, religion, architecture and technology of each culture.  Cultures to be explored include Ancient Egypt, Ancient Greece, Ancient Rome, Ancient Aztecs, Ancient China, The Celts, The Vikings,  and Africa .
Comparative World Religions 12
Paired with Comparative Cultures, Comparative World Religions provides students with an exploration of religions around the world and provides them with an awareness of the nature, place, and function of religion in diverse societies.  Students examine the connections between religion and the development of  civilizations, the place and function of religion in human experience, and the influence of a broad range of religions on contemporary society.
Genocide Studies 12
Genocide Studies 12 is a course that explores the horror of genocides in the past, as well as genocides happening in the world right now.  The course explores the psychology of human behavior and case studies of genocides and their causes.
Human Geography 12
This course focuses on the impact of geography on social systems. This includes the interrelationship of people, places, and resources, human systems, resource management and resource sustainability. Students look at local, regional, and global perspectives of environmental issues that affect the world we live in.
Social Justice 12
This course analyzes historical and contemporary cases of injustice, exploring the causes and consequences of social injustice.  We study models and philosophies of social change, and how to apply skills and knowledge to right injustice.  Students explore their own values and identities, and how they can use their personal experience and voice to bring about change. Guest speakers from the community and field trips will provide additional perspectives.
Psychology 12
This course is an introduction to the study of psychology.  Why do people act the way they do? How does the human mind work? How can we find happiness? Introduce yourself to the world of Psychology, with an emphasis on learning about how we can lead meaningful and fulfilling lives, to cultivate what is best within ourselves, and to enhance our experiences of relationships, work, and play.
Law 12
This course is an overview of Canadian law. It begins with a look at the foundations of our legal system and why it operates the way it does. The class examines the Charter of Rights and Freedoms, how it works and how it has shaped our law. Then we will study Criminal, Civil and Family Law processes. This course involves mature subject matter as we look at law surrounding current and controversial topics and field study includes a one-day visit to the Victoria Courthouse.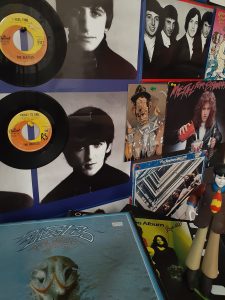 History of Rock and Roll
This course examines the roots of rock and chart the history and progression of this art form. There are an experiential components, film, and required listening. An academic course that examines high points, social relevance, and political impact. You'll travel from the Mississippi Delta's blues to indie rock on Band Camp, with stops in Liverpool, New York, Seattle, London, and Southern California. We mean it, man.
Your Socials department:
Ray Barkwill rbarkwill@sd62.bc.ca
Marc Burgess mburgess@sd62.bc.ca
Miles Eldredge meldredge@sd62.bc.ca
Danielle Huculak dhuculak@sd62.bc.ca
Adrian Mathieu amathieu@sd62.bc.ca
Chuck Simms csimms@sd62.bc.ca
Sterling Thiemer sthiemer@sd62.bc.ca
Mary Vincent  mvincent@sd62.bc.ca
Paul Waterlander pwaterlander@sd62.bc.ca
Jacob Wheating jwheating@sd62.bc.ca
Barbara Willson bwillson@sd62.bc.ca