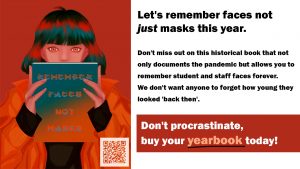 Parents, this has been a historical year to say the least – don't miss out on an extraordinary yearbook that documents the pandemic and what our students have to say about it.
Yearbook students have been working hard showcasing the highlights of each class while gathering student opinions, quotes and memories from all grades and subject areas. It's going to be an outstanding book, we urge you not to procrastinate this year, purchase yours today!
The cost of the yearbook is $55. Grads may purchase an optional grad box for an additional $15.
There are three ways to purchase a yearbook:
Cheque  – it must be payable to SD62.  
Cash – Students can stop by the office and pay with cash.
Does your child want more coverage in the yearbook? 
This year the yearbook students have created a website with many different opportunities to get featured. This could be submitting photos or answering surveys. Students need to sign in with their Google Learns account to access the site. The site showcases this year's theme, sneak peeks of some of the photos, and more!  https://sites.google.com/sd62learns.org/yearbook2021
If you have any questions at all please don't hesitate to email our yearbook advisor, Amy Harris at: aharris@sd62.bc.ca