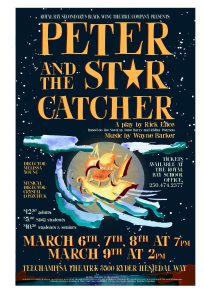 Tickets for Peter and the Starcatcher go on sale Monday February 4th!
Peter and the Starcatcher is a whimsical tale that tells the story of how an orphaned boy becomes Peter Pan. This Tony Award winning play (that contains lots of music) promises to be an adventure for the young, young at heart, and those determined to never grow up.
Show times:
Wednesday, March 6th at 7:00 pm
Thursday, March 7th at 7:00 pm
Friday, March 8th at 7:00 pm
Saturday, March 9th at 2:00 pm
Tickets:
$12.50 for adults
$10.50 for students/seniors
$5.00 for SD62 students
We are offering a special Starcatcher Ticket Bundle from February 4th until February 15th–buy any 4 tickets for only $30! This offer is only valid for SD62 students, families, and staff.
Tickets are available at the Royal Bay School Office, 250-474-2377.