Dear Parents/Guardians, 
We are requesting that you access the online consent system and hopefully agree to the terms within.  The District's online system has several electronic consent forms for you to review:
Online consent : https://consent.sd62.bc.ca/apps/OnlineConsent
General Consent for Low Risk Field Trips and Activities (annual) – Rather than sending home a paper consent for each activity, this would cover all Low Risk school activities.   High Risk activities require a parent consent each activity.
Google Apps for Education (GAFE) – We are hoping that each of our students have a Google account as this is becoming more and more popular for teachers to use in their classrooms and communicate with home and students.
Internet Access (annual) – Agree to the term of safe use of the internet at school
Media Consent (annual)– Allows us to use student names and pictures in our media publications
School Cash online – You can pay and access all your school fees online.  No need to come into school to pay or write cheques anymore.
My Blueprint – To increase the interaction between parents, students and teachers, we are bringing in a new program for teachers called MyBlueprint.  The MyBlueprint platform is used for career education, digital portfolios and self-assessment core competencies from Kindergarten to Grade 12.
When online, you will have a more thorough explanation of what you are consenting to if you agree to consent.
We strongly urge you to review this system and hopefully consent to what makes sense for you and your family. 
Thanks for your consideration.
RBSS Administration
Dear Royal Bay Families
Re: New Registrations over the summer (after June 30, 2022)
As we get set to close down the school for the summer break, please know that we will not be processing new registrations over the summer.   Our staff are not in the building and are off on summer break.   Our clerical, counsellor and Administration teams will be returning to the building August 29th.  Any new registrations being submitted for École Royal Bay Secondary School after June 30th will be addressed as soon as we return to building in late August.
Have a great summer.
RBSS Admin
Dear Students, Parents, and Guardians;
Today the University of Victoria sent out graduation ceremony tickets that were purchased through the school. If you haven't purchased your tickets yet they have been held for you to purchase through the UVic box office.
Please note that you need a seat for every person attending, including infants/babies. This is a fire code regulation and there will be no exceptions. Thank you for your understanding.
Additional tickets are going to be made available Monday May 9th. The first wave of extra tickets will be until Friday May 13th with a limit of two. On May 16th the second wave of extra tickets will have no number limit, and they will available on a first come, first served basis.
The UVic box office number is 250-721-8480 and they are open Monday-Friday from 9:30AM4:00PM. If you have any questions or difficulties, please contact me.
Thank you,
Martin Lait Vice Principal École Royal Bay Secondary School
250-474-2377 ext. 1111
Email: mlait@sd62.bc.ca
The Making of a Little Library
Earlier in the school year, our librarians expressed an interest in having a little library made for Royal Bay.  This seemed like a great design opportunity for students in the grade 11 & 12 Housing and Living Environments class.  Students began by interviewing the librarians to have a better understanding of their needs.  The librarians wanted a mobile little library that could travel around open spaces inside the school with the goal of encouraging student readership.  Since the librarians were the clients, not the users, the class created surveys to better understand reading habits and features of a little library that would drive student interest.  The collected data was used as a starting point for brainstorming and ultimately led to the designs that were presented to our librarians for feedback.  Students wanted a little library that would be colorful, fun, and interactive, that would feature some Indigenous artwork and reflect our location along the ocean and that would connect with our school culture at Royal Bay.  Mr. Sorenson offered to build the chosen design and students found the inspiration to paint it from an Indigenous story about ocean stewardship. This story resonated with the students as they saw a parallel with the idea of being good stewards of the ocean by "only taking what you need," and being good stewards of our new little library.  Students worked with a local indigenous artist, Jaymin Zuroski, who helped students bring their ideas to life.  So here is the finished product we are very proud to present! You will find "The Whale of a Tale Little Library," around and about the open spaces of our school.  Help yourself to a good book and enjoy the read!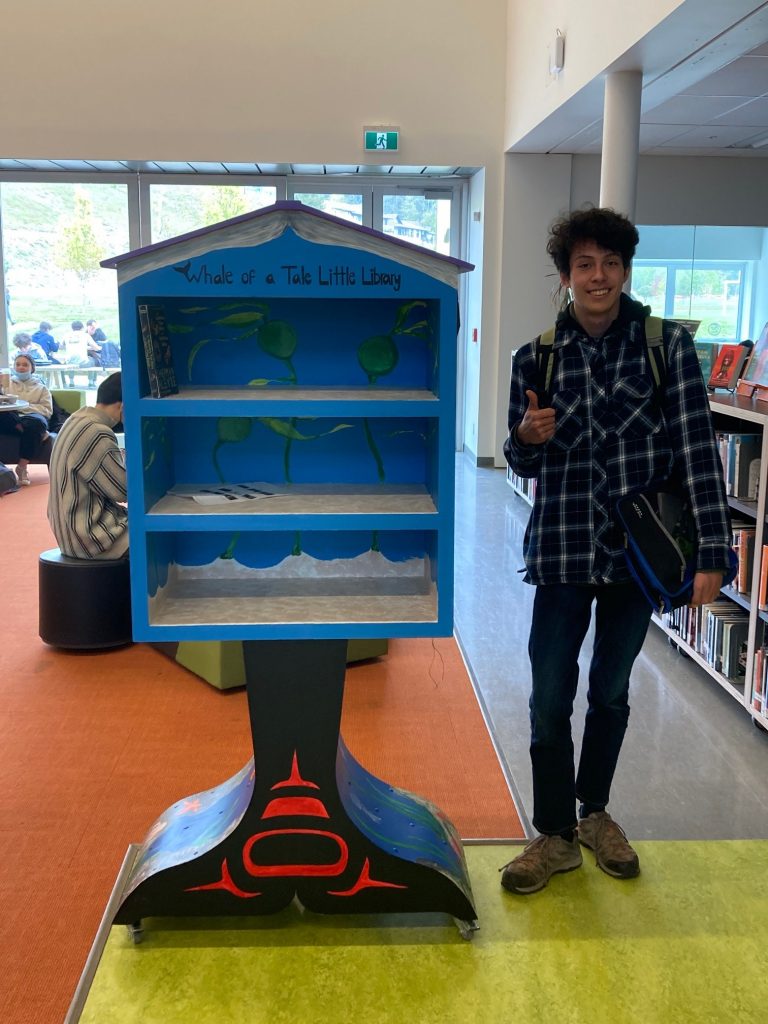 Grade 12 Student Takuma Peterson approving of our new mobile Library
Prom at Crystal Gardens
June 17, 2022
Arrival 5:15 – 6 pm
Dinner 6:30 pm
Dance starts at 8:00 pm
Event concludes at 10:00 pm
Tickets will be on sale until Friday, May 6, 2022.  NO LATE SALES.
The ticket sales are a two-part process, the office must have BOTH the parent/guardian signed yellow form (pick up from the school office) as well as proof of school cash online payment, cash or cheque payable to SD62.
Graduates will NOT be able to attend without BOTH parts – payment and signed form.
Please note that parent/guardian will need to escort their student to the event.
Attention Grade 10's & 11's!
If you're interested in a career in trades…WE HAVE THE PROGRAM FOR YOU!!!
TASK (Trades Awareness Skill & Knowledge) will help you make an informed decision about which trade would be the best fit for you. TASK is a "hands on" program in partnership with Camosun College that focuses on four trade areas: carpentry, metal trades, electrical and plumbing. Students will get practical experience building a variety of projects such as; Sheds, Car Ports, Garages, etc. Upon successful completion of the Trades Awareness Program, students will receive Industry Training Authority (ITA) C.O.R.E. certification from Camosun College. To ensure students are "job ready", students will also take entry-level industry certifications and go out on a work placement for two weeks. This program is one full semester and will give students up to 28 high school credits. Please contact Ms. Phillips or Mr. Huck, or your councilor if interested.
The TASK Program has been very successful since coming to the SD 62 high schools several years ago.  A large amount of our students have successfully transitioned straight from this program into local industry jobs, often earning ITA apprenticeships, full time employment and post-secondary training at Camosun subsidized by the school district.
This year more than any other might be the right time to make this decision. If you're interested, please connect with Ms. Phillips tphillips@sd62.bc.ca or connect with their school counsellor.  This is a fantastic program – don't miss out on an opportunity that be life changing!
http://royalbay.sd62.bc.ca/programs/construction-task-program/
The following students will be writing assessments during this sitting:
Grade 10 students who are in Semester 2 Math 10 (Numeracy 10 Assessment)

Grade 10 students who are in Semester 2 English 10 (Literacy 10 Assessment) 

Grade 12 students who are in Semester 2 English 12 (Literacy 12 Assessment) EXCEPTION: AP English 12 and AP Literature 12 will be writing in June.

Any Grade 12 students who have not yet written their Numeracy 10 or Literacy 10 OR would like to rewrite. (Counsellors have contacted families and students to let them if they have been scheduled during this sitting). 

Lists of ALL students that are writing is posted in the Aviary.
Results for this sitting will be posted to students' MyEdBC Portal on June 13, 2022.
Please Note: Any Grade 11 Students missing Literacy 10 and/or Numeracy 10 will be scheduled to write June 13-17.

For more information, resources, and practice exams:
Grad Bottle Drive – April 22
Drop off bottles in front of the school from 8:30 – 1:45

Carnival Dry Grad  – May 14
Forms (blue) to purchase tickets are available in the office. Forms must be returned to the office prior to April 29. Guests must be pre-approved.
Grad Cap & Gown distribution Week of May 23
Rehearsal at UVic Auditorium – May 25
Bus transportation to and from UVic
Commencement 11am and 2pm June 5th at UVic
Prom at Crystal Gardens  – June 17
Forms (yellow) to purchase tickets are available in the office. Forms must be returned to the office prior to May 6. Guests must be pre-approved.