Dear RBSS Parents and Guardians
Students and staff at RBSS are working with SD62 facilities to paint a Rainbow Crosswalk in front of the school on May 13th.  In order for us to complete the event with the students involved, it will be necessary to close the student drop off loop in front of the school for May 13th and 14th.  There will be no access to the drop off loop for the those two days.   Students can be dropped off in the student parking lot at the rear of the RBSS turf field.
Thank you for working with us to help create a memorable student event.
Regards
Mike Huck
Principal, Royal Bay Secondary School
250-474-2377 ext.1112
http://royalbay.web.sd62.bc.ca/
Royal Bay Secondary's Black Wing Theatre Company presents:
Generation Next: A Documentary Style Musical Film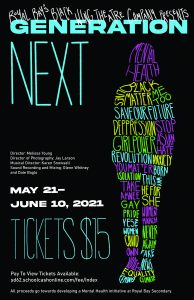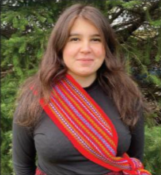 Megan McCool is our Indigenous Valedictorian.   Megan won the Premier's Award for Indigenous Youth Excellence in Sport for her rifle shooting.
Six Indigenous youth on Vancouver Island honoured for excellence in sports  
Vancouver Island Regional Premier's Awards Recipients Honoured
Hello Families of the Graduating Class of 2021
In preparation for the upcoming commencement ceremonies, we have checked our files and the files indicate that a vast majority of our graduating class have yet to consent to media release. This is a requirement to participate in the graduation video and the live streamed commencement ceremonies, which will be made available for viewing by our families and our community.
Media Consent needs to be given annual for all students.
Please take a moment to ensure that media consent has been given for your graduating student, by using the link provided to access the district on-line consent app and give consent if the consent folder is empty.
Media Consent is needed prior to Friday, May 14th, to ensure that your student can participate in these events.
https://consent.sd62.bc.ca/apps/OnlineConsent
The dry grad committee will be holding an Instagram livestream prize giveaway on June 5. Every grad is eligible to win prizes from gift cards all the way to our grand prize of $1000 cash!! Please follow "royal bay dry grad" on Instagram for updates and to participate in this year's giveaway! Your name will be automatically entered.
Please watch the video presentation https://youtu.be/lIwfnoprHMk that explains the student entry points, and other Covid-19 expectations. The link is also available on the Royal Bay Website.
When arriving at Royal Bay, students will need to find their proper entrance and proceed to it directly. Staff will be waiting to receive them. Signs on each entry point have maps, entrance numbers and classes listed. Students are asked not to gather at the entry points and to don a mask if they cannot physically distance and as they enter the school. Students will all be provided with a cloth mask from their teacher.
When arriving at school please make sure to wear a mask, physically distance while following all COVID 19 related safety measures.  The same expectations will apply when in the school and in the common areas.  We ask that you arrive 15 minutes before the start of the scheduled class and proceed to your designated entry point.  Once in the building a mask should be worn when in common areas while to you proceed to your classroom.  Staff will be at each entry to help you get to the right spot if you have questions.  The front door is for staff.