RBSS students at work in Meadow Park in the new Royal Bay Community.  Our students and staff are giving back to the local community that is so supportive of our students.  Over the years we have enjoyed great supports and relations with our neighbors.  We are large presence here in Royal Bay and appreciate the beautiful surroundings.  Many programs, staff and academies have signed up their classes for a community clean up event.  Each Friday, students from RBSS will walk the neighboring parks and pick up any loose debris left behind.  We appreciate the ability to learn in such a beautiful area and are committed to keeping it clean and positive.  Thanks to everyone involved!  Our wonderful Girls Lacrosse Academy cleaned up the park and area on January 14- Thanks Team!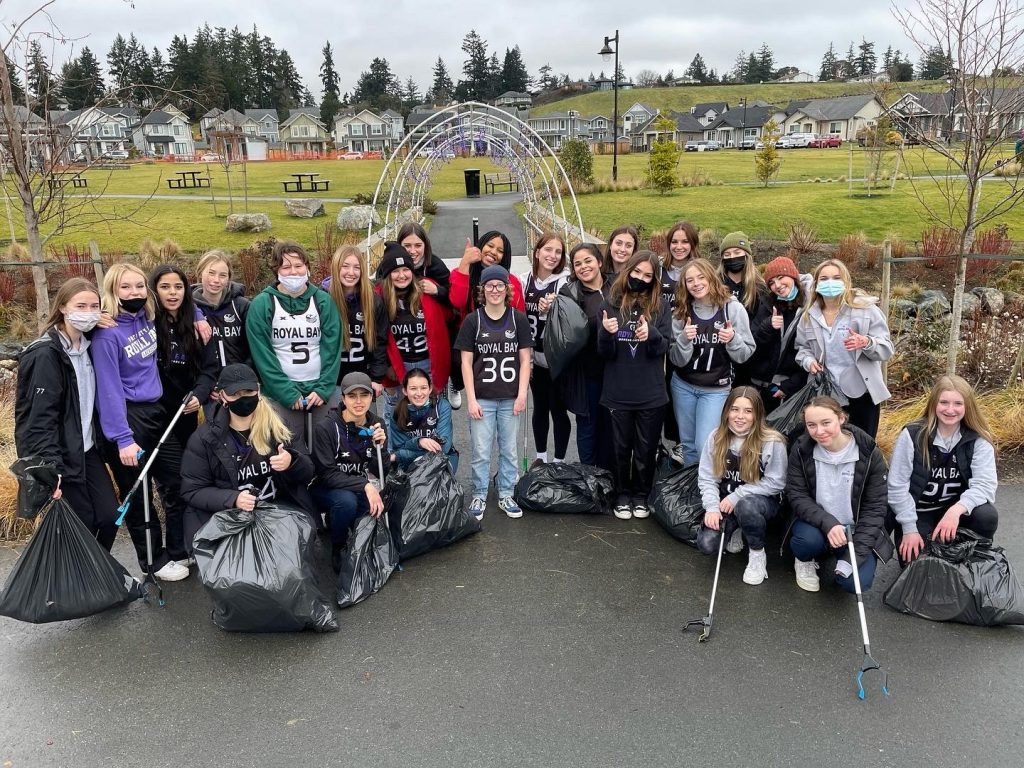 This year's 10,000 Tonight is involving the Royal Bay community at several different levels. With options to donate through School Cash Online and in community drive thru donations happening at the school there's a variety of ways the community can give to those in need. The classroom donation boxes will also be a site for donation over two weeks as classes vye for bragging rights in the halls of Royal Bay. All funds and food items will be donated to the Goldstream Food Bank in time for the holiday season when the need is significant. Even amidst the restrictions and barriers that come with the pandemic the Leadership class has shown temerity and persistence in their goal to keep this strong tradition going.
Community Drive Thru dates: Tuesday (November 30 and December 7) and Thursday (December 2 and December 9)
School Cash Online: look for the link on the RBSS website
Classroom Competition: send food with your child for their A-Block classes
Thanks for all your support!
RBSS Leadership Class
10,000 Tonight is BACK at Ecole Royal Bay.  From November 29th-December 10th, students will be collecting non-perishable food items and cash donations to help support the Goldstream Food Bank.  There are a variety of ways that you can contribute:
Donate through school cash online (click the link to donate).  Tax receipts will be provided!
Take part in our community drop off days (Tuesday November 30th/December 7th & Thursday December 2nd /December 9th) by bringing non-perishable food items for drop off outside Ecole Royal Bay Secondary School.
Encouraging students to participate in our classroom contest! Every A Block homeroom class will be competing against each other to see who can collect the most non-perishable items.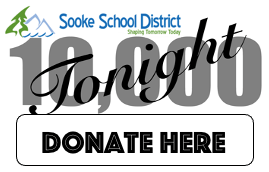 Bell Schedule for November 18th Early Dismissal and Learning Conferences
Block B       9:00 – 9:40
Block A       9:45 – 10:25
Break         10:25 – 10:40
Block D      10:40 – 11:20
Block C      11:25 – 12:05
Learning Conferences 2-4pm & 5-7pm 
Interviews will be held on Thursday, November 18th online through MS Teams from 2:00 pm to 4:00 pm & 5:00 pm to 7:00pm. If you prefer a phone call to online, please contact your child's teacher.  Thank you for taking the time to meet with your child and their teachers.
November 18th Busses and Student Pick-Up
This first busses for student pick-up start arriving at RBSS is at 12:20 pm.
"International students and Royal Bay Ambassadors got together after school on Friday to carve pumpkins, make new friends, indulge in treats, and celebrate Halloween festivities. For many of our International students, it was their first time carving a pumpkin!"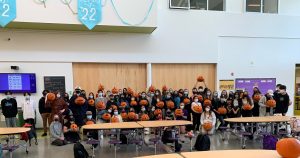 The Grad Class of 2022 is having a grad bottle drive on Friday, November 5, 2021 from 8:00 am to 1:45 pm
Please help out the grad class by spreading the word about our up coming bottle drive.
Start saving your empties and bring them to the front of the school.
COVID safety protocols will be in place during the event. No contact drop off. Students will be happy to remove your bottles and cans from the trunk of your vehicle.