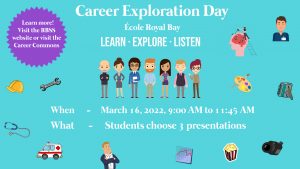 "a speaker series designed to help you explore career pathways"
To learn more, check out the Career Exploration Day website.
Dear Grade 8 students and families
Please see the attached link to Tonight's "Welcome to RBSS Parent Information Night,"  Thursday, Feb. 10 starting at 7pm.  We value connecting with you all as a group to show you how wonderful RBSS is and what we have to offer your young learners in the coming years.  We look forward to connecting with you on Thursday evening,
https://jump.sd62.bc.ca/RoyalBayGrade8ParentInfo
Sincerely,
RBSS Admin Team
Congratulation to Ashlyn Smart!  Ashlyn signed her national letter of intent to Tiffin University in Ohio with an athletic and academic scholarship.  Way to go Ashlyn!
This is a reminder to parents that the rescheduled Grade 9 school based immunization clinics at Royal Bay will take place  February 3rd & 4th. If you have not yet had a chance to give consent for your child to receive their eligible routine immunizations, please call the Westshore Health Unit at 250-519-3490 and ask to speak to a school nurse.
Please be advised of the following Special Update from the Ministry of Education as of Thursday 20th January 2022.
Resulting from present, province-wide challenges, January Graduation Assessments have been cancelled;
Gr 12 students on track to graduate for 2021-2022 will not be impacted; and
More information to follow in mid-February 2022.
Royal Bay Secondary will keep you apprised of the updates as we become aware and wish you the very best as we bring Semester 1 to a successful close.
We thank our students, school team and community for their dedication and resilience,
Your Royal Bay Team
---
Full message from Ministry of Education:
Cancellation of the January 2022 Provincial Graduation Assessment Administration Session:
Due to the ongoing challenges presented by the pandemic, the January administration session of the provincial graduation assessments is cancelled. No Grade 12 students who are on track to graduate in the 2021/22 school year will be impacted by this cancellation. Further information on upcoming sessions will be provided by mid-February, including a question and answer document to support conversations with students and parents.
On January 15th, thousands of students, educators, and citizens across British Columbia and Canada will recognize the struggle for civil rights fought by Black and racialized Canadians.
​Commemorating the birthday of Martin Luther King Jr., Black Excellence Day is both a day of education and remembrance, and an invitation to a necessary conversation about racial justice.  RBSS will recognize this important day on Friday, January 14.
When students arrive on Monday, January 10, 2022 the students are expected to use their designated entrance and exits only.
Door-Entry-Block-A-Sem-1-2022.pdf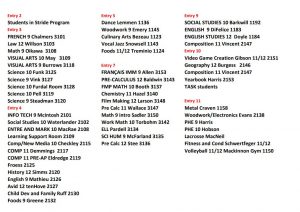 With the accumulation of snow last night and road conditions as they are, schools will be closed today and busing will be cancelled (January 6, 2022).
RBSS students at work in Meadow Park in the new Royal Bay Community.  Our students and staff are giving back to the local community that is so supportive of our students.  Over the years we have enjoyed great supports and relations with our neighbors.  We are large presence here in Royal Bay and appreciate the beautiful surroundings.  Many programs, staff and academies have signed up their classes for a community clean up event.  Each Friday, students from RBSS will walk the neighboring parks and pick up any loose debris left behind.  We appreciate the ability to learn in such a beautiful area and are committed to keeping it clean and positive.  Thanks to everyone involved!  Our wonderful Girls Lacrosse Academy cleaned up the park and area on January 14- Thanks Team!