Hello RBSS Grads and Grade 11's!
Our Careers Department has put together a wonderful careers event for you tomorrow – Wednesday, March 16th – and WE NEED YOUR HELP!!  Parking at RBSS is limited and in order for us to have this event we are asking that you try to car pool, run, walk, bike, get dropped off, take a city bus or a school bus tomorrow on March 16th (clearly lots of options!).  We have a lot of presenters coming to the school and we need to have parking for them.  The presenters are taking over the staff parking and the staff will be in the lot next to the turf field.  Let's demonstrate our appreciation for these people coming to work with us by making their day easier.
It's only one day, please lend us hand to make this a great event!
Mike Huck
Principal, École Royal Bay Secondary School
Hello Parents/Guardians,
We are pleased to announce that our graduation ceremonies will occur on Sunday, June 5th, 2022 at the Farquhar Auditorium at the University of Victoria. Due to the size of the grad class of 2022, there will be two ceremonies. One ceremony at 11 am and one ceremony at 2 pm. 
The last chance for your student to select their grad ceremony time is coming due. Please have your student complete the embedded form prior to Wednesday, March 16, 2022 with their preferred ceremony time.  After this date, if your student has not submitted their preference, a ceremony time will be assigned.
https://forms.gle/DzH6JDTmyQB7y5xX6
Ticket sales for the grad ceremonies will be available after Spring Break. It will be important to know which ceremony your graduate wants to attend so we can ensure the tickets reflect the correct ceremony time. The initial offering to families will be up to 5 tickets.
Dear Royal Bay Families,
Beginning on Friday, March 11, 2022 at 9:00 am we will be opening our booking system for the virtual parent-teacher interviews until Wednesday, April 6th at 12:00 pm. Interviews will be held on Thursday, April 7th online through MS Teams from 2:00 pm to 4:00 pm & 5:00 pm to 7:00pm. If you prefer a phone call to online, please contact your child's teacher.   Here is how you book an appointment:
https://outlook.office365.com/owa/calendar/EcoleRoyalBaySecondarySchool@sd62.bc.ca/bookings/
If you are unable to book online please call our front office at 250-4742377 beginning Monday, March 14, 2022 after 10:00 am. If you are unable to book an appointment with a teacher due to availability, or if there is a unique reason that makes it necessary for a parent to meet face to face with a teacher, please contact the teacher to set an alternate time.
Teacher contacts can be found  RBSS Staff List
Thank you for taking the time to meet with your child and their teachers.
RBSS Admin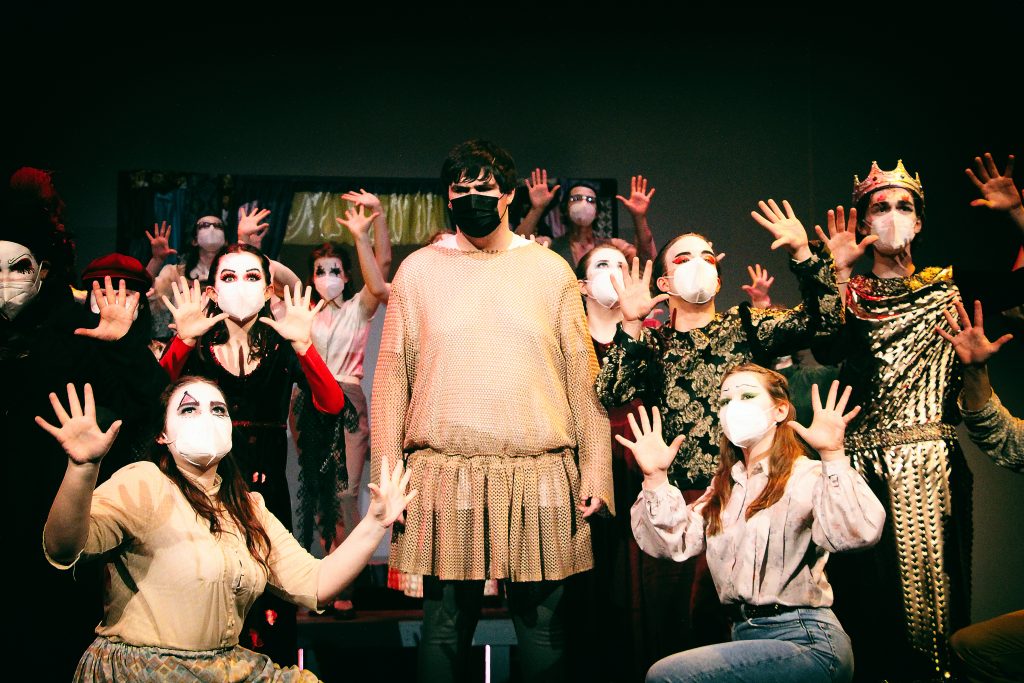 Live theatre returned to RBSS on March 9, 2022 with the premier of the Black Wing Theatre with the premier of "Pippin". Last night felt like two years of waiting leaving the room in a rush.  Adhering to all Covid protocols, we were able to welcome back the community into the theatre for a night of live theatre.   This first performance in two years demonstrated everything that is good about school and education.  Our students worked super hard these past months getting ready for opening night.  We were lucky to witness the build-up to this special event; everything from students practicing their lines,  going through their costumes designs, to setting up lighting and stage sets.  The excitement and talent of our students was incredible to witness, the smiles and the energy was infectious.  Your/our students put on an amazing show and were a credit to all your efforts in support and their commitment to the arts.
The singing and dancing was amazing.  The RBSS theatre company have made so many people in our community happy with a return to student-lead live theatre.
Pippen will continue to run until Saturday, March 12th.
Well done and thank you,
Mike Huck
As you know, the January 2022 Graduation Assessment sitting was cancelled by the Ministry of Education.
Only students on track to graduate in March 2022 will be eligible to receive an Exemption on their transcript for LTE12.
Graduation Assessments are a graduation requirement.
The RBSS Counselling/Admin team are tracking this and will be applying for these exemptions. If students have questions regarding this, encourage them to reach out to their counsellor.
The April 25-29 sitting will be focusing on the following grades:
Grade 10 students who are in Semester 2 Math 10 (NME 10)

Grade 10 students who are in Semester 2 English 10  (LTE 10)

Grade 12 students who are in Semester 2 English 12 (LTE 12) 

Exception English AP/Lit AP – both classes will be writing during the June sitting due to AP Exams in May.

Any Grade 12 students who are missing any of the grad assessments.
Results from this sitting will be posted in MyEdBC on June 13, 2022
Trades Awareness Program (TASK)
Trades Awareness (TASK) is a "hands on" program in partnership with Camosun College that focuses on multiple trade areas: carpentry, metal, pipe fitting, electrical, plumbing, and urban forestry. Grade 11/12 Students will get practical experience building a variety of projects such as: saw horses, picnic tables, sheds, etc. Upon successful completion of the Trades Awareness Program, students will receive Industry Training Authority (ITA) C.O.R.E. certification from Camosun.
To ensure students are "job ready", students will also take entry-level industry certifications and go out on a work placement for three weeks.
This program is one full semester and will give students up to 28 high school credits.
If interested, complete the TASK application and drop it off in the Career Commons or email it to Ms. Phillips:  tphillips@sd62.bc.ca.
Pippinposterfinal

Royal Bay Secondary's Black Wing Theatre Company Presents:
Pippin
Pippin tells the story of a mysterious acting troupe performing a play within a play, about a young prince's search for his extraordinary purpose. Originally directed by infamous Broadway director Bob Fosse in 1973, and then revived on Broadway in 2013 to win numerous Tony awards, Pippin continues to resonate with audiences as people—now perhaps more than ever—question and search for the true meaning of life. Pippin, the lead actor, explores the glories of war, the temptations of love, and the intrigues of political power before discovering happiness lies not in the extraordinary but in the ordinary moments of the every day. With popular songs such as Corner of the Sky and Magic to Do, Pippin guarantees to take you on a journey you won't soon forget.
Details:
Pippin
March 9, 10, 11 at 7:00pm, doors at 6:30pm
March 12 at 2:00pm, doors at 1:30pm
Teechamitsa Theatre at Royal Bay Secondary
3500 Ryder Hesjedal Way
Tickets:
$15.00 for adults
$13.00 for students/seniors
$6.00 for all SD62 students
$6.00 for RBSS Theatre Alumni
Tickets are only for sale online: SchoolCashOnline.com: Items
Please bring your ticket receipt to the show. This will act as your ticket.
COVID SAFETY PROTOCOLS:
Please note that seating capacity in the Theatre will be reduced.
All seating will be assigned. If you have mobility issues and require special seating, please email Melissa Young at myoung@sd62.bc.ca.
Royal Bay's very own Jack Pye is off to the provincials after taking gold at the island wrestling competition in Port Alberni last weekend.  Jack is a dedicated wrestler and has done a wonderful representing his school and his passion for the sport.  Congratulations Jack and good luck in your next provincial competition!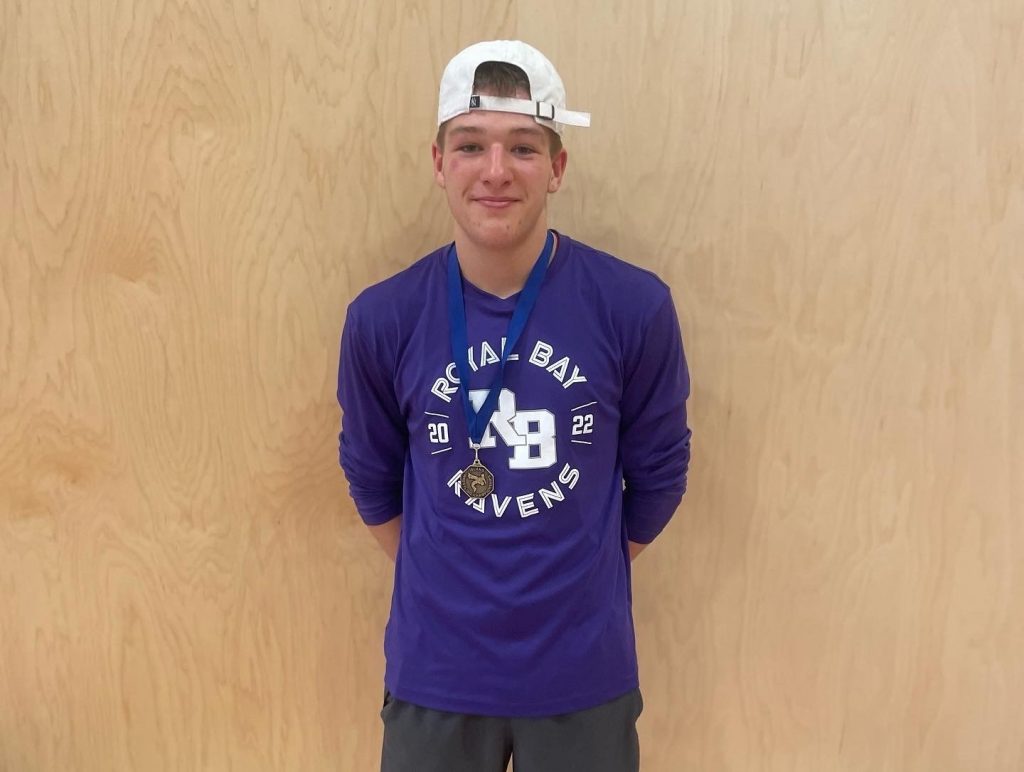 If you missed getting a grad photo studio sitting OR would like retakes, Book NOW! 
Photo days:
February 16 and 17
in the RBSS Conference Room.             
Visit the site below to get your appointment:
https://booking.edgeimaging.ca/portal/book/IRS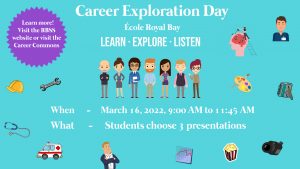 "a speaker series designed to help you explore career pathways"
To learn more, check out the Career Exploration Day website.