Dear RBSS Families and Guardians
Thanks so much for your words of support and kindness today in relation to the ugly act of vandalism over the weekend. The the students and staff came to the building with some apprehension, but were quickly overwhelmed with solidarity and support. Our halls were full of bright colours and loud student.  Many messages of support were all over the walkways out front (chalk only!). We have received gifts and kind words from our community, and from people from all over Canada.
This incident, while ugly and hurtful, has opened up many avenues for conversation.  I witnessed these conversations all day and have been reminded how strong and mature our students can be.
Your support, the district's support and the community support has been the silver lining in an challenging event.  We are all trending in the right direction.
It's very clear that while the crosswalk is at RBSS – it is owned by the students and larger community and that they value the message of inclusion and equity.  The crosswalk has been restored, and is beautiful once again – but the purpose of the crosswalk was to inspire conversation and change and in that respect the crosswalk has already been a success.
There's some pretty amazing work happening in our district right now.
With thanks
Mike Huck
Principal, Royal Bay Secondary School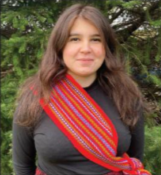 Megan McCool is our Indigenous Valedictorian.   Megan won the Premier's Award for Indigenous Youth Excellence in Sport for her rifle shooting.
Six Indigenous youth on Vancouver Island honoured for excellence in sports  
Vancouver Island Regional Premier's Awards Recipients Honoured
Hello Families of the Graduating Class of 2021
In preparation for the upcoming commencement ceremonies, we have checked our files and the files indicate that a vast majority of our graduating class have yet to consent to media release. This is a requirement to participate in the graduation video and the live streamed commencement ceremonies, which will be made available for viewing by our families and our community.
Media Consent needs to be given annual for all students.
Please take a moment to ensure that media consent has been given for your graduating student, by using the link provided to access the district on-line consent app and give consent if the consent folder is empty.
Media Consent is needed prior to Friday, May 14th, to ensure that your student can participate in these events.
https://consent.sd62.bc.ca/apps/OnlineConsent
Please watch the video presentation https://youtu.be/lIwfnoprHMk that explains the student entry points, and other Covid-19 expectations. The link is also available on the Royal Bay Website.
When arriving at Royal Bay, students will need to find their proper entrance and proceed to it directly. Staff will be waiting to receive them. Signs on each entry point have maps, entrance numbers and classes listed. Students are asked not to gather at the entry points and to don a mask if they cannot physically distance and as they enter the school. Students will all be provided with a cloth mask from their teacher.
When arriving at school please make sure to wear a mask, physically distance while following all COVID 19 related safety measures.  The same expectations will apply when in the school and in the common areas.  We ask that you arrive 15 minutes before the start of the scheduled class and proceed to your designated entry point.  Once in the building a mask should be worn when in common areas while to you proceed to your classroom.  Staff will be at each entry to help you get to the right spot if you have questions.  The front door is for staff.
Shout-out to our community for coming out to support our grads with the bottle drive. Thank you!
The new RBSS tent was purchased with funds from the last bottle-drive and is part of the 2021 grad legacy gift to the school.
Great work Grad Council!
Good morning Royal Bay Families.
Please review this info provided by the Ministry of Education.  It is a simple to use resource which will help you identify whether or not you should have your child remain at home if they have any concerning health symptoms.  Thanks for your continued support in keeping our RBSS school community a safe and healthy place to work and learn!
New App Simplifies Students' Daily Health Check
Thanks to a new app, it's easier than ever for your students or their parents to complete their daily health check each morning.
Developed in partnership with Public Health and the BC Centre for Disease Control, and a group of students, the K-12 daily health check website and mobile app help students and families make the best decisions on whether to attend school, stay home, or take other measures. Questions and answers are easy to understand and are based on current health guidelines. All content is written with the K-12 age group in mind.
As indicated in the Provincial COVID-19 Health Safety Guidelines for K-12 Settings, parents and caregivers should assess their children daily for illness before sending them to school. Please share the information about the new K-12 Health Check App with your students and families to make this process easier.
Interested in joining Royal Bay's new League of Legends e-sports team? For more info and to sign up, click HERE