Pacific Football Club (PFC) joins forces with Royal Bay Soccer Academy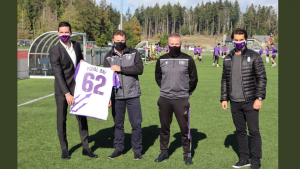 The Royal Bay Soccer Academy will  have a solid program this year with Pacific Football Club signing on as our coaching staff.   Coaches Dan Cumming and Ryan McCurdy will be offering a dynamic skill-based development program for players of all skill levels.  Professional player visits and additional guest coaching from PFC will occur throughout the school year as well.
Academy player signed to White Caps Residency program
We are excited to wish former Raven, Nicolas Mesiano, a huge congratulations on being invited to the Whitecaps residency program this year.  Nico was part of our High Performance program for the past couple years and will be missed from both our academy and Sr boys Soccer Team.  We wish him the very best of luck with the Caps and look forward to hearing about his development.
Staff coach Dan Cumming with Nicolas Mesiano