The TASK program is a "hands on" trades program.  The TASK program exposes students to various construction and mechanical trades as they explore units in carpentry, electrical, plumbing and metal trades.   Applications for semester 2 are available now in the Careers Centre.
Welcome New Grade 8's! (Grad Class of 2025!)
Please join the staff of Royal Bay for a "Welcome to Grade 8 at Royal Bay Virtual Event."  You can log in on January 26th at 6:30 to the Youtube Live Chanel for an informative evening all about Royal Bay.  The link is provided below.  The session is intended as a Virtual Parent Night where you can learn more about our school, be introduce to programs and staff, and take the first steps to becoming a Raven!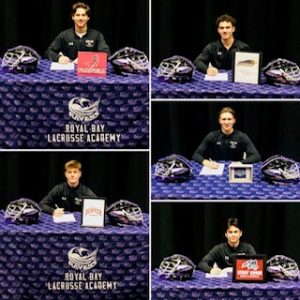 A big congratulations to 6 of our Royal Bay Lacrosse Academy students for signing their National letter of intent.   Each of these students will be moving on to attend and play NCAA lacrosse.
Dylan Johannes – Fairfield University
Noah Manning – Denver University
Joel McCormick – Stony Brook University
Austin King – Montevallo University
Connor Barrett – Mount Saint Mary's University
Missing Student 
Ayden McDonald – New Jersey Institute of Technology
Governor General's Award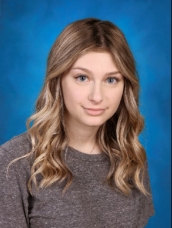 We are proud to announce that the recipient of the 2019-2020 Governor General's Academic Medal is Karis Heynsbroek. The Governor General's Academic Medal recognizes outstanding academic achievement and is awarded annually to the student graduating with the highest average at schools all over Canada.  Currently, Karis is in her first year at the University of Victoria studying Science.   The staff at Royal Bay Secondary would like to congratulate Karis and wish her good luck in her continued studies.  Karis will be acknowledged as the Governor General Award recipient for Royal Bay at the Sooke School Board of Trustees monthly meeting on December 15th.
After years of consultation and collaboration, we are proud to roll out our new Crest and Motto. Thank you to all stakeholders that were invested in this process.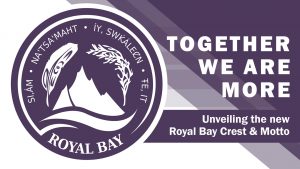 Hello All students, parents & guardians;
We are very excited to have you back in our school.  Please watch the video presentation https://youtu.be/lIwfnoprHMk that explains the student entry points, and other Covid-19 expectations. The link is also available on the Royal Bay Website.
When arriving at Royal Bay, students will need to find their proper entrance and proceed to it directly. Staff will be waiting to receive them. Signs on each entry point have maps, entrance numbers and classes listed. Students are asked not to gather at the entry points and to don a mask if they cannot physically distance and as they enter the school. Students will all be provided with a cloth mask from their teacher.  The AM/PM information can be found on the MyEd Portal or on the website.  Please know that the most up to date class information will be found on the MyEd Portal, as some class changes have occurred this week.
When arriving at school please make sure to wear a mask, physically distance while following all COVID 19 related safety measures.  The same expectations will apply when in the school and in the common areas.  We ask that you arrive 15 minutes before the start of the scheduled class and proceed to your designated entry point.  Once in the building a mask should be worn when in common areas while to you proceed to your classroom.  Staff will be at each entry to help you get to the right spot if you have questions.  The front door is for staff.
We are looking forward to seeing you on Monday. Have a great weekend.
Thank you,
Royal Bay Admin.