Languages  Link to languages website: (TBA)
FRENCH
French at Royal Bay is taught with the AIM method (Accelerated Integrated Method) which focuses on authentic language learning achieved through scaffolding techniques which use story-telling, gesture, active collaboration and repetition. Speaking the language is the key to success, and students will be encouraged to speak as much French as possible while telling interesting and engaging stories.
Learn more about AIM: https://www.aimlanguagelearning.com/
SPANISH
All Spanish courses at Royal Bay are taught with the TPRS method (Teaching Proficiency through Reading and Storytelling). This method is based around a series of engaging stories which are taught through questioning, choral response and dramatization in a highly comprehensible, personalized and contextualized manner. The TPRS method promotes rapid fluency in a fun and supportive environment.
Learn more about TPRS: https://www.tprsbooks.com/what-is-tprs/
You tube video of TPRS method: https://www.youtube.com/watch?v=0DA6ZxVVL50&t=921s
Useful resources for Spanish students:
Duolingo: https://www.duolingo.com/
Quizlet: https://quizlet.com/
AMAZING TRAVEL OPPORTUNITY FOR STUDENTS
The Royal Bay Language department is planning another amazing trip to SPAIN for Spring Break 2021. We will fly in to Madrid and travel south for a ten day tour of Seville, Granada, Malaga and the Costa del Sol (sunshine and beach time). There are limited spots available as we would like to keep the group under 25 students. Monthly payments are available and cost includes flights, hotels, transportation and all meals except lunch. This is a fantastic opportunity for students to learn about Spanish culture and practice speaking the language. For more information about the trip, or to sign up go to:  www.explorica.ca/Haddon-9052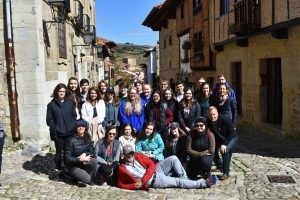 Staff List
Amanda Chalmers           FRENCH                achalmers@sd62.bc.ca or achalmers@sd62learns.org
Lori Haddon                       SPANISH              lhaddon@sd62.bc.ca or lhaddon@sd62learns.org
Robyn White                      SPANISH              rwhite@sd62.bc.ca or rwhite@sd62learns.org