Dear RBSS families
In light of the postponement of In-Class Instruction, the Student Learning Conference scheduled for Thursday, April 9, 2020 have been canceled.  Please continue to engage directly with your student's teachers with regards to class progress.
"Student Transcript Service" login / creation instructions that will be required for any of our Grade 12 students that are planning to attend Post Secondary Education.  The "STS" service is maintained by the Ministry of Education and is a service that will transmit a students  final Transcript to the selected Post Secondary Institutions of their choice. 
Students will need to follow the instructions carefully during the creation of this login and they will have access to this service even after graduation for forwarding their Transcript for employment in the future.
To assist you with more easily finding the latest information about the status of operations at our 30 member institutions, PSBC has now established LINKS to updates from almost all of our Institutions Profile Pages our PSBC website:
https://www.postsecondarybc.ca/institutions/
From this one page, you can select any member institution and find the link to their updates. In some cases, there is just a link to their institutional information, but some institutions have already posted additional update information on their PSBC profile page relevant to your students.
As you might imagine, the focus on most campuses right now is the situation with regard to current students and programs, but I expect that our members will be developing more detailed information for prospective and incoming applicants over the next several weeks.
From this one page on our PSBC website, you are now able to constantly check for updates from any of our member institutions, and we will be asking them to provide relevant information directly on their profile page as it becomes available.
For those of you who host a Fall PSBC visit to your school, our Planners are now starting to work [from home] on a draft schedule and will likely be in contact with you soon. Given the uncertainty we are all facing, we are proceeding on the basis that we will be able to continue with our fall visits, while at the same time considering the options available to us all should that not be possible.
Thank you for your continued support, and please let me know if there other ways that we can assist you during this difficult time.
Monday March 30 – All schools closed for in class instruction until further notice
While the last two weeks were not the Spring Break any of us had planned for, I hope everyone has remained healthy and you were able to find activities and routines to help pass the days as we have all worked through the variety of ways COVID-19 has impacted our lives. On Monday, we face a new set of challenges and learning as we step into the new reality of Education in the province.  It is clear we are not returning to business as usual. Things will be different and we are continuing to work towards finding solutions. 
At the school level, we will continue to work on developing a sustainable plan that supports the continuity of learning for students at Royal Bay.  While this plan is being developed over the next couple of weeks and as we address the many questions and concerns about working and learning remotely, the School District will be providing more information via the District's website www.sd62.bc.ca.
We will communicate our plans to families as they are developed. It is important families are checking email, school and School District websites, our school app and social media channels for updates and information. 
At this time, we ask that all students and families stay home and not come to the school to pick up belongings and items. We will be communicating a plan to allow students and families to pick up essential belongings and items in the next couple weeks, but it needs to be in a coordinated process that ensures everyone's safety.  Please do not show up at the school with expectations of entering the building. If there is something you need immediately please contact us directly.
To those Royal Bay community members who are providing and maintaining essential services for us all – we would like to personally thank you on behalf of everyone for the work you are doing. 
We have appreciated everyone's patience as we work through these extraordinary times and look to find answers to questions that have never been asked of us before. We will keep providing updates as they become available however if you have questions that haven't been addressed please feel free to contact us via our general email account at royalbay@sd62.bc.ca.
Regards,
Mike Huck
Principal, Royal Bay Secondary
Due to International Downs Syndrome Day occurring during Spring Break, RBSS acknowledged the day on March 12.
We wore our wacky socks.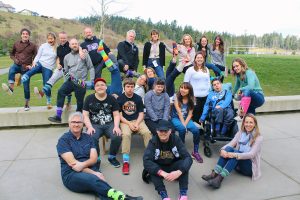 World Down Syndrome Day, on March 21, gives people with Down Syndrome and their advocates an opportunity to advocate for the rights, inclusion and well-being of people with Down syndrome.
A huge congratulations to our Boys lacrosse academy for their successful weekend in Coquitlam for the BC High School Championships. With 94 boys and 4 teams over competing in Vancouver, the junior 1 team came back with the championship trophy, defeating Claremont by a score of 10-4. 
Both senior teams made it into the semi finals in the tier 1 division, and our other junior 2 team made it into the bronze medal game. A big thank you to all the coaches, teachers, volunteers and parents who were able to help over the 3 day event. .