Cabaret tickets are now on sale!
Get your tickets in the Royal Bay school office or through school cash online: https://sd62.schoolcashonline.com/Fee/Index
Please note that Cabaret deals with mature subject matter and language, and is not suitable for a younger audience.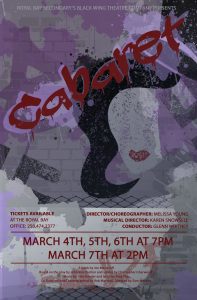 Students,
Welcome to the second semester of the school year.  This is a reminder that we will not be making any course changes.  The expectation is that students will attend their scheduled classes and make a strong start to the second semester.  Grade 12 students may come down to the counselling suite to make an appointment for course changes only if the required changes are necessary for graduation or post-secondary, or if they have incomplete schedules beginning on Monday, January 27th.  Students currently in grades 9, 10 and 11 can access counsellors during the second week of the semester for similar needs.  We will make announcements over the PA requesting specific grades. We will not make changes based on teacher preferences or friends in other classes.  All students are reminded of the need to ensure that they access their myEd portal both to check their schedule,  their report card and in preparation for next year's course selection.  Going forward we will continue to host myEd reset sessions in the Learning Commons during Focus Blocks on Fridays.
Have a great second semester!!
Go Ravens!!
"Due to the weather and driving conditions the Grade 8 Parent Information Night (Avid and District Academy Information  Sessions included) scheduled for January 16 at Royal Bay will be rescheduled to January 30th. 2020."
6:00 – 6:30   AVID presentation in room 2125
6:30 – 7:30   Theatre presentation
7:30               Academy information session in break out rooms (TBA)
Dear Parents/Guardians,
With the possibility of snow over the coming days, please take a look at our weather procedures. Schools remain open if at all possible, including during snowfalls. It is always up to you to decide whether or not to send your child to school during inclement weather.
Weather-Related Closures & Cancellations
For instant updates and information posts, please follow us on social media:
We will also post to the SD62 Website: http://www.sd62.bc.ca/
Dear Parent or Guardians,
All grade 10 students currently enrolled in a math course at Royal Bay Secondary will be writing the Graduation Numeracy Assessment 10 (GNA 10) during the timeframe January 23-24, 2020.  All grade 10 students currently enrolled in an English 10 class will also be writing the Graduation Literacy Assessment (GLA) during this same period. An assessment schedule will be posted in the New Year.  Please see the notes below about this assessment:
The GNA 10 and GLA 10 are requirements for graduation.
Students are assessed on a four point proficiency scale  – Emerging, Developing, Proficient and Extending
There is no "pass" or "fail" – students must write the assessments in order to meet the BC grad requirements.  Students have a chance to rewrite the assessments if they like.
The mark is not blended with any subject as was the case with past provincial examinations.  The mark stands alone on the student's transcript.
For more information about these assessments, use the following links:
https://curriculum.gov.bc.ca/assessment/grade-10-numeracy-assessment
https://curriculum.gov.bc.ca/assessment/literacy-assessment/grade-10-literacy-assessment
Students are able to do a practice assessment using the same link.
Sincerely,
RBSS Admin
https://www.goldstreamgazette.com/community/royal-bay-student-hopes-to-break-records-for-west-shores-largest-food-drive/
The 5th annual Royal Bay 10,000 Tonight Food Drive is taking place at Royal Bay on December 11th from 4:30-10pm.  We are still looking for volunteers who are interested in helping out, particularly drivers who are able to go on routes around Colwood.  There will be pizza, hot chocolate, and even door prizes.  Spread the word and prepare your non-perishable food items for collection or come be a part of this amazing.  To sign-up, you can scan the QR code on the poster using the camera app on your phone.  You will then be taken to a google form that you can sign.  Alternatively, you can email the teachers in charge (bhobson@sd62.bc.ca or kmacrae@sd62.bc.ca).  Thank you for your support. 
Dear Royal Bay Parents and Guardians
In an effort to enhance communication between the school and our RBSS families we are starting to send home daily attendance reports through the school messenger system.   Those of you who have been with RBSS in previous years will recognize these as email alerts indicating that your student was absent from a class.  Those new to the school, these attendance emails are generated once the in-school attendance is completed at the end of the day.  These emails indicate that a student in your household has missed a scheduled class that day. 
These daily attendance notifications will start the week of December 9th, 2019.  If parent/guardians need to amend the absences notifications please email the school general mailbox ( royalbay@sd62.bc.ca ) to excuse the absence or contact the student's teacher if there are questions.
RBSS
Los Angeles 2020 (Dates Changed) – Sign up by October 31st!!!
October 31st is the last day you can sign up for the Royal Bay/Dunsmuir Los Angeles 2020 trip – don't miss out! Please note that the dates of the trip have changed to April 11-16, 2020. The itinerary has been adjusted a bit, and the price will come down accordingly. Click on the following link to see the adjusted itinerary and to register!
    ****Please note it may take a few hours for the new dates & itinerary to be updated on the registration page.
New Itinerary – Lights, Camera, Los Angeles! (6 days) – click here
To Register – www.eftours.ca/2223856be
¡Vamos a viajar! (Let's travel)
AMAZING TRAVEL OPPORTUNITY FOR STUDENTS
The Royal Bay Language department is planning another amazing trip to SPAIN for Spring Break 2021. We will fly in to Madrid and travel south for a ten day tour of Seville, Granada, Malaga and the Costa del Sol (sunshine and beach time). There are limited spots available as we would like to keep the group under 25 students. Monthly payments are available and cost includes flights, hotels, transportation and all meals except lunch. This is a fantastic opportunity for students to learn about Spanish culture and practice speaking the language. For more information about the trip, or to sign up go to:  www.explorica.ca/Haddon-9052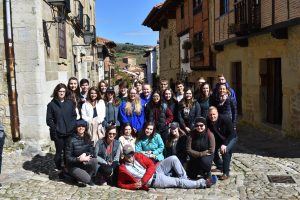 Welcome to Royal Bay 2019-2020
Tuesday, September 3, 2019 will be for Grade 9 students and new Royal Bay students in any grade. Tuesday will be half a day starting at 9:00 am and ending at 11:53 am.
Wednesday, September 4, 2019 will be a full day of classes for all students.
Students may bring paper and a pen/or pencil their first day. Supply list will be given by each teacher to the students' participation in their classes. The school has no supply list.