Deadline for purchasing Winter Formal tickets is Thursday, December 12, 2019.
If there are not enough tickets sold the event could possibly be cancelled.
Just a reminder to Grads who have paid for Winter Formal online to hand in the blue consent form to the office.   2019 Winter Formal Consent Formal 
We must have the consent form signed by a parent or guardian for the student to attend this event
Los Angeles 2020 (Dates Changed) – Sign up by October 31st!!!
October 31st is the last day you can sign up for the Royal Bay/Dunsmuir Los Angeles 2020 trip – don't miss out! Please note that the dates of the trip have changed to April 11-16, 2020. The itinerary has been adjusted a bit, and the price will come down accordingly. Click on the following link to see the adjusted itinerary and to register!
    ****Please note it may take a few hours for the new dates & itinerary to be updated on the registration page.
New Itinerary – Lights, Camera, Los Angeles! (6 days) – click here
To Register – www.eftours.ca/2223856be
¡Vamos a viajar! (Let's travel)
AMAZING TRAVEL OPPORTUNITY FOR STUDENTS
The Royal Bay Language department is planning another amazing trip to SPAIN for Spring Break 2021. We will fly in to Madrid and travel south for a ten day tour of Seville, Granada, Malaga and the Costa del Sol (sunshine and beach time). There are limited spots available as we would like to keep the group under 25 students. Monthly payments are available and cost includes flights, hotels, transportation and all meals except lunch. This is a fantastic opportunity for students to learn about Spanish culture and practice speaking the language. For more information about the trip, or to sign up go to:  www.explorica.ca/Haddon-9052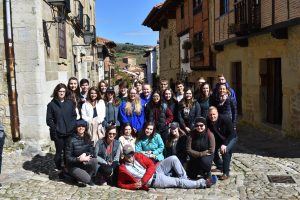 Welcome to Royal Bay 2019-2020
Tuesday, September 3, 2019 will be for Grade 9 students and new Royal Bay students in any grade. Tuesday will be half a day starting at 9:00 am and ending at 11:53 am.
Wednesday, September 4, 2019 will be a full day of classes for all students.
Students may bring paper and a pen/or pencil their first day. Supply list will be given by each teacher to the students' participation in their classes. The school has no supply list.
Student report cards will be available on MYEDBC in the student and parent portal on Wednesday, June 26th, 2019 at 4:00 p.m.
Please see School District 62 Logo to the right side of our home page for easy access and instructional manual.
Report Cards published 3pm Friday, April 26, 2019
Dear RBSS Students, Parents and Guardians,
Report Cards will be published today at 3:00pm. Students received an information sheet in homeroom today which provides log-in information to access the MyEd Student Portal for those students/parents that have previously logged in as well as for the those who have never logged in.
You will have 5 attempts to log-in, after the 5th attempt your account will locked and you will need to contact the school on the next business day to have the account reset. Ensure you are entering the information correctly.
With the outbreak of measles in Vancouver, BC, families may be wondering what steps they can take to protect themselves from measles. Vaccination is the best method of protection. All school-age children and adults born in 1970 or later should have 2 doses of MMR vaccine for full protection. Most people born before 1970 are immune to measles because of past exposure or disease.
Please take some time to check your vaccination records to see if you or your children need additional vaccination. Vaccination is available from physicians, pharmacists (for adults and children over 5 years), and public health units (for children). Call ahead to your healthcare provider to ensure that MMR is available at your appointment.
If you have any questions or would like more information about measles and MMR vaccine, please visit healthlinkbc.ca and immunizebc.ca. 
Dear Parents/Guardians,
With the possibility of snow this week and next, please take a look at our weather procedures. Schools remain open if at all possible, including during snowfalls. It is ALWAYS up to the parent to decide whether or not to send their child to school during inclement weather.
For instant updates and information posts, please follow us on social media:
We will also post to the SD62 Website: http://www.sd62.bc.ca/
Thanks for taking the time to look through this,
SD62 Communications Team
http://royalbay.web.sd62.bc.ca/departments/math/numeracy/
NUMERACY ASSESSMENT
This assessment is a requirement for graduation
The Numeracy Assessment is a new provincial assessment and a graduation requirement for students on the 2018 Graduation Program.  Please see the link above for more information.  
Planning is underway and action will be starting on a 600-seat expansion at Royal Bay Secondary. Led by Knappett Projects Inc., the expansion is set to open September, 2020.
The first phase of construction will begin with the student and staff parking their vehicles in the new lot located at the  far end of the artificial turf field beginning Monday, January 14th, 2019.  Only visitors, drop off and pick up will use the parking lot in front of the school.  The gravel lot behind the portables will also be off limits when construction begins.
We will keep our parent and student community updated frequently on the progress of this build.
Thank you for your patience and understanding throughout this process.