The Career Department is pleased to present Royal Bay Secondary School's first ever Career Exploration Day!  This event will bring together over 70 community presenters who will share their life story and career journey with students over the course of the morning of March 14th.  This event is for all Royal Bay students.  Students will need to select the three presentations that they wish to participate in.
Please find presenter bio's and the registration sign up form linked below.
Any questions please contact Danielle Huculak:  dhuculak@sd62.bc.ca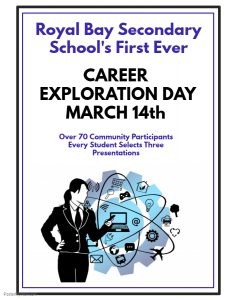 This April 21-22, 500 powerful young minds will gather for two jam-packed days of future-proofing sessions in Victoria. Mental health speaker Kevin Breel is headlining, with special guests The Earth Group, and the master of ceremonies is skilled youth facilitator Warren Hooley from the Syilx (Okanagan) territory in Penticton. Students are coming from around BC (SD23 Central Okanagan alone is sending 50!). Principal Jeff Hopkins and the Pacific School of Innovation and Inquiry have partnered to facilitate the two-day inquiry and open-space sessions. We only have space for 500 youth and tickets are selling now. Are the students in your school going to miss out? We hope not!
Crawling all over both days will be world-class speakers, inspirational entertainment and the most interesting conversations and ideas youth can dream up, guided by 50 mentors and facilitators. These mentors? They're part of our Human Library: business owners, investors, policy makers, educators and entertainers. Every one of them an expert in how to support youth in developing the skills they're going to need for life after high school.
If you missed it, check out last year's event here:  https://youtu.be/8eCPW1iehTA 
The Ravenous Cafe will be closed from Friday, January 19th, 2018, and will reopen on Monday, February 5th, 2018 with a limited menu.
Stay tuned for more information.
Parents/Guardians 
You can now load your child's student ID card at the cafeteria to be used at The Ravenous Cafe.  The card can be loaded using either cash or your debit card only at the cafeteria.
Second semester begins Monday, January 29th, 2018.  All students should have received their new schedules.
January 25th, 2018 
No regular classes, provincial assessments
January 26th, 2018
No regular classes, exam day
Hello Royal Bay Families. There are a number of students who have not paid their course fee for the first semester and athletic participation fees. These fees are just for students participating in classes with fees or on sports teams this year. There will be second invoices sent out in report cards for outstanding fees.
You are welcome to pay on line at https://sd62.schoolcashonline.com by cheques payable to SD#62,or cash in the school office.
The Royal Bay Dance Academy Winter Dance show is cancelled for this evening – Tuesday, December 19th, 2017.  This wonderful event will be rescheduled for tomorrow evening – Wednesday, December 20 at 7pm (weather permitting).  All tickets will be honoured.
In 2016, Royal Bay Secondary began a 'School Travel Planning' process; a focused method aiming to increase the number of students and families who travel actively to school and decrease traffic congestion around the school site.
'Active travel' is choosing modes of transportation that use our bodies. By walking, biking, taking transit or using a 'Drive to Five' location we will create a safer school environment, increase our children's ability to sit, focus and learn, address mental, physical and emotional health concerns that are present for many families today, create a strong connected community and show appreciation for the natural spaces around us.
Please consider the attached 'Best Routes' map to find your walking or cycling route, your nearest transit stops or your nearest 'Drive to Five' location.
Please find attached below more information, including a route map.